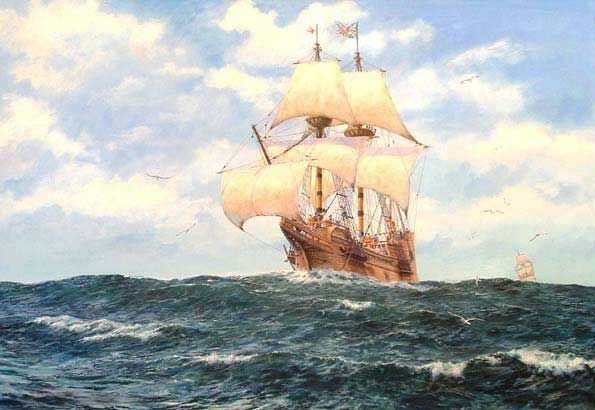 It took the Pilgrims 101 days to travel from Southampton, England to Plymouth, Massachusetts, in 1620.
We are now able to travel from London to Boston on a plane in 7.25 hours! Many things have changed over those years, but I'm glad we still set aside a day to give thanks.
I found this Thanksgiving meme on
Jamie's Rose Cottage
and thought it was a fun one to share today.
1. Turkey or Ham? Turkey, for sure! I'm kind of traditional that way - Turkey is for Thanksgiving and Ham is for Christmas!

2. Favorite side dish. It's a toss up between two carb filled dishes - stuffing or mashed potatoes.

3. Favorite dessert. Hmmm - I'm not sure. I heard a rumor that there was going to be mint cheesecake at our gathering this year and that sounds good to me!

4. Black Friday: Are you going or not? Not unless there is a deal I can't live without. I often have to work on this day, so it's not part of my routine.

5. If so, what's on the top of your list? No list!

6. Going out of town or staying close to home? I'm blessed to have our family all nearby, with the exception of Andy. I have to work every other Thanksgiving anyway, and this is my year to work.

7. Hosting or helping? I'll be at work all day, but will have food ready to send with Bob to his Mom's house, and will join them when I get done.

8. Name one family tradition at Thanksgiving. This is a typical tradition, but talking about what we are thankful for is one of them.

9. What do you do after dinner? When we have thanksgiving with my side, my sisters and I do our Christmas cards together. Both sides enjoy playing games.

10. What are you most thankful for this year?
I have so much to be thankful for, but tops on the list right now is the fact that Andy gets to come home for Christmas!