Hi! Hope you all had a nice Thanksgiving. I had to work 11-7 the night before, but was able to come home and sleep for a bit and have a nice day. I also had a nice blog break and got some things accomplished.
The day after Thanksgiving, I had the day off and planned to put up our tree. I had already put up the other decorations, but was waiting on the tree. Our main tree is not very big - about 5 1/2 feet tall and last year we got a tree bag for it. So the decorations stay on it, you bag it and store it. Bob brought it upstairs on Thanksgiving night, and the plan was for me to get the bag off and move it into place on Friday.
Friday morning I was doing something in the kitchen when I heard a big noise in the living room. You're right - the tree had fallen and was laying down on the floor. My first mistake was to stand it back up. I went back to finish what I was doing in the kitchen. Shortly after, I heard a now familiar sound. You guessed it - tree was back on the floor! I left it there and finished some other tasks.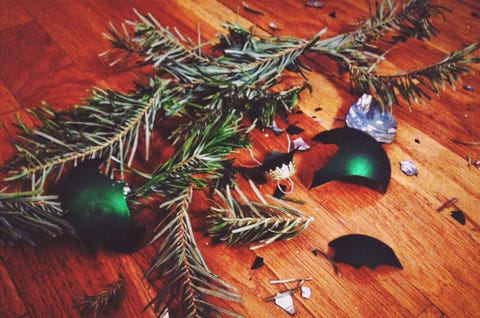 When I opened the tree bag, I found something similar to this - bent branches and lots of broken ornaments. There were many of them off their hooks and the tree as well.
I moved furniture, vacuumed and put the tree where it belonged. I picked up broken ornaments and managed to cut a finger, then had to redo the tree, which seemed to have developed a bend. (Bob says it's now a Charlie Brown Tree). I then discovered that the extension cord and timer were missing... I decided I'd had enough of that tree and went to set up the two little trees we put on our front porch. They have no decorations, just lights. Unfortunately, only half of the lights were working and the timer and cord for them was also missing! (Who put this stuff away last year?) I don't know what I did with it - I always put it right in the box with the Christmas stuff.
On Saturday I had some errands to run, and was now going to pick up a few extension cords and lights too. I made some cookies in the morning, and noticed the oven was not smelling good. Something must have spilled and was burning. I made plans to clean the oven, but headed out to do my errands first.
When I came home, I emptied the oven, started the self cleaner and went into the living room to get the lights going on the main tree, and put new ones on our porch trees.
It wasn't long, and a smoke detector went off. I walked into the kitchen to see something like this:
Smoke was coming out of the oven vent and the kitchen was enveloped in a haze! I turned off the smoke detector, opened some windows and turned on the microwave vent. It didn't last long, but the lingering smoke lasted too long! It was 34 degrees outside, so not a good time for open windows. I lit candles to try to make things smell better. The crazy thing is that I have no idea what spilled in that oven!
So, now you know what I was up to on Friday and Sat. I did get the trees fixed, the oven is clean and has been used again with no smoke and everything is looking good. Sometimes you just have to laugh, right? But I think I need to go back to work. I do less damage there!